Website design update: have you noticed the stars are floating?
Published:
August 7, 2020 at 1:26 pm
Starting today, Password-find will be gradually switching to a new design. Right now you can see our new and improved the Main page. A lot of helpful information such as unprotection success rates for different password types, F.A.Q.'s and reviews, which was previously scattered around the site, is now moved there – feel free to browse!
Main goal of our new design is to deliver a completely new and overall better experience to our users. That's why we redesigned every part of our site, starting with our logo.
Taken from our old logo, stars represent password protection we successfully remove. That's why they are a common thread in our new design and you can notice them creeping into some words or floating around in the trail of a rocket.
And if you watch the sign this fellow holds for a few seconds, you'll see the stars revealing the most popular passwords people use.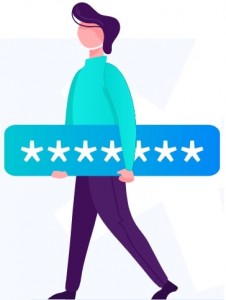 But what's the most fitting place for stars if not in a review section?
Fresh reviews are now visible on the Main page in an animated ribbon, so you can easily scroll them. Or just sit back and watch them scroll themselves! This will take some time, though, since there are already more than 3700 of them and several new reviews are added every day.
Don't hesitate to leave yours! You can always use our Contact form and get back to us if you have anything to say.